A calm yet energizing space.
The Embody studio is a calm yet energizing space that provides everything needed to address a wide range of health and wellness challenges including acute and chronic issues.
The theme of mindfulness permeates the studio—exhibited with artwork, and consistently practiced through openhearted, moment-by-moment awareness of breathing and movement that encourages body-mind connection.
Soft music and natural daylight provide a relaxing backdrop as Angela guides you through a series of movements designed specifically to address your concerns.
Studio equipment
The Studio is equipped with everything needed for Pilates, mind-body movement and other therapies, helping to build strength and improve posture and balance.
Equipment includes:
Pilates reformer
use of spring resistance during Pilates exercises promotes fluid, controlled movement; the reformer's sliding carriage and adjustable springs and straps enable wide ranges of movement and exertion levels
Pilates ladder barrel and chair
Pilates ladder barrel and chair help develop core strength and flexibility in a variety of positions
Small equipment
foam rollers assist with body alignment, as well as massage muscles and release tension
balls and resistance bands help develop balance and strength in targeted areas
arc barrel and inflatable disc promote spinal mobility and dynamic stability
kettle bell weights target functional whole-body strengthening and conditioning
Vibration plate
whole-body vibration helps improve muscle strength, bone density, functional performance, and postural control
Manfred, our Studio model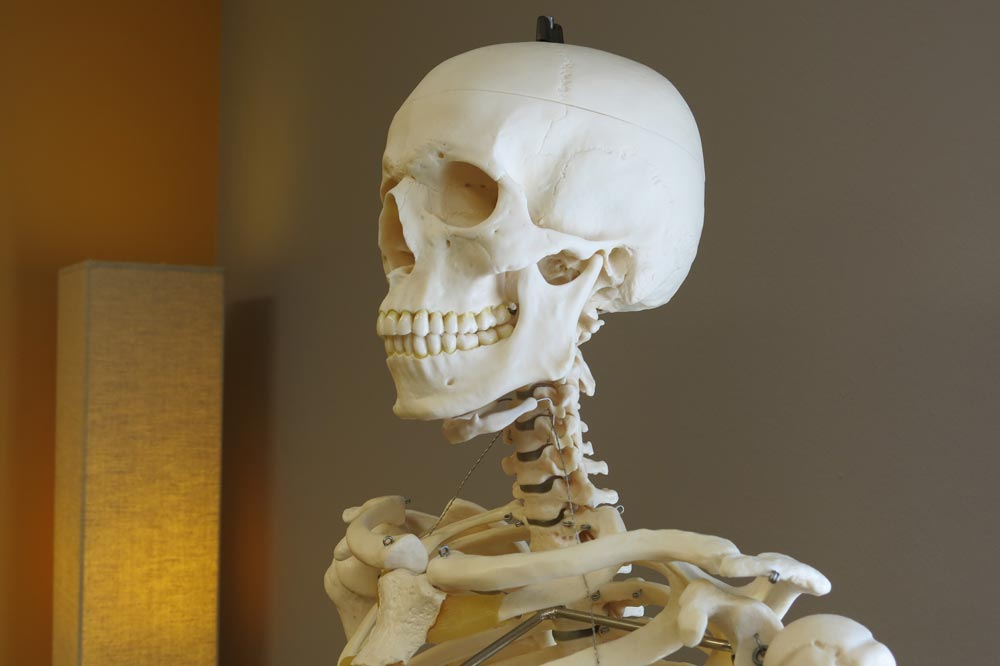 Despite his macabre appearance, Manfred is very willing to lend a hand to illustrate the intricacies of the human musculoskeletal system!
While Manfred demonstrates correct alignment, Angela explains how bones and muscles are designed to interact, helping you visualize and experience proper form in exercises and achieve more ease of movement in daily life.